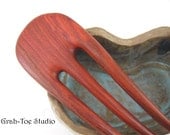 A Lilliputian wood hair fork, made from Red Heart Wood in our Mini Lilliputian Cyclops 3 tine design.
The decorative top is approximately 1.5 inches(4.8 cm) across. Its functional prong length is 4.25 inches(10.8cm) and its overall length is 5.5 inches(14.3m). Its weight is .4 ounces.
This fork is sealed and should not need any maintenance except wiped with a damp cloth if something get...
Click Here to Visit My Etsy Shop!