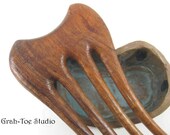 This hair fork has a working length of 4.75 inches(12.2cm), the overall length is about 6 inches (15.3 cm) . Across the tines it is about 1 3/4 inches(4.5cm). This piece of curly koa is dark but has quite a bit of flash in it. This is very difficult to capture in pictures!! The action shot shows a hint of the curl and glow. This fork weighs 1.2 ounces
This hairfork will hold up many lengths of hair...
Click Here to Visit My Etsy Shop!