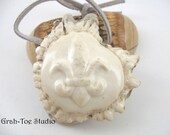 These "Grah-Toe Studio GPS's" are a perfect reward for little scout going on an adventure, to put on your walking staff or just to add to your outdoor suvival kit. We have secured the compass into the antler and it has a rawhide loop. We also have these in wood. Please convo us if you need a specific length loop of rawhide.
This compass is a Tru-Nord brand compass and is very high qualit...
Click Here to Visit My Etsy Shop!