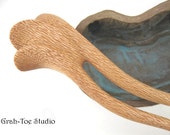 A Newly designed hair fork for 2011, sculpted on the top, The Jugendstil, which means Art Nouveau in German.
This beautiful and elegant fork is made from Silky wood and is a special request for a 2 tine version.
This hair fork is VERY light in weight, and will hold your hair up well. Its functional prongs are 5.5 inches (14cm). Overall length is 7.25 inches (18.5cm). This wood is a be...
Click Here to Visit My Etsy Shop!