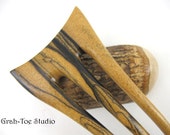 This is our Mini Lilliputian wood hair fork in a 3prong Scooped top design!! Those of you looking for small combs, side combs or little combs to add help for holding back layers, these are for YOU!!!
The decorative top is 2 1/8 inches(5.5 cm) across the longest point. It's functional prong length is 4 inches(10.3 cm) and its overall length is 4.75 inches(12.2 cm).
This fork has an A-line pr...
Click Here to Visit My Etsy Shop!